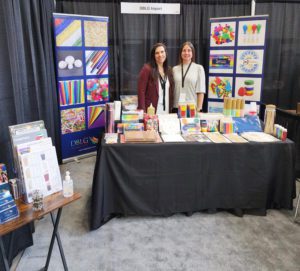 DBLG Import Inc. is a Canadian wholesale distributor of quality arts, crafts and school supplies.  Our customers are located across Canada and range from large and brand name distributors to community supply stores; they mainly service school boards, daycares and camps. President Gabby Green founded DBLG Import Inc. in 2002, after 25 years working at a major Canadian importer.
We pride ourselves in:
Offering exceptional customer service, with quick turnaround times
Only accepting high quality products we can stand behind
Ensuring we have competitive and fair pricing
Working diligently to ensure product availability with few backorders
Staying current with developing trends and needs, as evidenced by our STEM and Covid-19: Single-User sections of our website
Interested in becoming a customer?  Please email aliciag@dblgimport.com for details.  We will be happy to provide you with our Terms & Conditions and assist with any inquiries.
New to wholesale? Our products are sold by inners, meaning by the quantity in each inner box of product (for example, SKU35800 Assorted Pony Beads, will be added to your cart in multiples of 12).
Ordering online made easy! Our customers are now able to process orders in a few simple clicks; we've eliminated the guess work by having each product added to your cart by their inner.
DBLG Gives Back!  DBLG Import Inc. believes in giving back to the community, and therefore regularly contributes to local charities. This year we will be supporting the Vancouver Covenant House, Carmichael Outreach in Regina, Manitoba Association of Women's Shelters, United Way Greater Toronto, and Moisson Montréal.